Here is the new graphic:
And here is the new blog button (for those in cells and tablets. Copy the gray area and paste wherever you want)
For those in computer, same, or copy the one in the side bar--->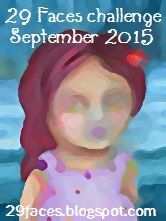 Read the past post for getting a kit with sample materials. Not necessary but always mentioned.
The Linky will be up on September 1st as early as I can, Pacific time... hey, maybe even midnight, so my friends in Europe and AU, NZ much earlier than my time, can come and play! :oD